November 29, 2018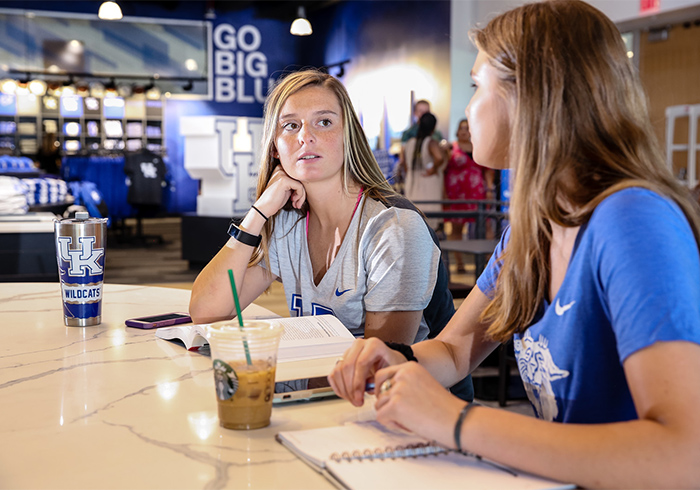 For the past few years, the UK Bookstore has been at the center of an important transformation: the $2.3 billion building and remodeling of facilities that serve nearly every stakeholder on the University of Kentucky campus. The new 30,000-square-foot bookstore opened in May, 2018, inside the recently-completed Gatton Student Center, which school president Eli Capilouto calls the "living room of campus."
By all accounts, the store and student center are beacons of success amid the ongoing campus-wide renewal, which is part of a large-scale effort to further the school's mission of improving people's lives through education. Thus far, the bookstore has generated so much excitement that students, faculty and alumni who visit often feel compelled to record the experience. "People hold up their iPhones and start recording as soon as they walk in," said UK Bookstore General Manager David Lang. "Recently, a man came in, stood in the middle of the store and did a 360-degree twirl. He said, 'School wasn't like this when he was in college.' I said, 'Me neither!'"
"The partnership with Barnes & Noble College has been seamless and rewarding. They were more than partners throughout this process. They were part of the community." 
– James Frazier, Executive Director for Risk Management and Administrative Services for the University of Kentucky
That's just the reaction UK hoped the community would have. The university wanted to retain a brick-and-mortar store, but it also wanted a solution that would be fully outfitted with technologies and services that have radically altered retail and education over the past decade. It turned to Barnes & Noble College with high expectations and it hasn't been disappointed, according to James Frazier, the University of Kentucky Executive Director for Risk Management and Administrative Services.
"The bookstore is an incredible facility," said Frazier. "Whether you're buying essential materials for that classroom assignment, purchasing coffee or the latest gear as part of Big Blue Nation, or engaging in dialogue at Starbucks, this store has what you need. The partnership with Barnes & Noble College has been seamless and rewarding. They were more than partners throughout this process. They were part of the community."
When Barnes & Noble College first arrived three years ago, the old student center was in the process of being demolished. The company set up a spacious tent — with heat and air conditioning — to serve as a retail environment during the transition. Even while operating from a temporary location, the store became a critical part of campus life.
"It was another example of the power of partnership," said Frazier. "They worked in an incredibly close manner with UK officials to take what could have been a very challenging issue and maximize the opportunity. We continued to provide high-quality service while laying the groundwork for a new and improved setting."
Lang said UK officials have been "fantastic partners." He believes some of the success can be attributed to Barnes & Noble College and the university's shared wish to further and protect UK's brand. For Lang, that means staying ahead of the curve so that UK has the latest offerings in digital learning, courseware and affordable course material formats. It also means stocking general merchandise that caters specifically to the UK community.
"We want to be a provider that's leading the way. To me, that's an exciting challenge. We built this beautiful bookstore, and I want to make sure it's the place people want to visit — the place people can rely on for what they need. We want them to keep coming back," said Lang.
The bookstore has two floors, an escalator, an Apple© technology department and a robust supply of athletic gear. It collaborates with the athletics department to provide the logo-apparel athletes and fans want. During orientation, the store provides incoming freshman with free "class of" t-shirts. This year's cohort turned up in throngs for their Class of 2022 shirts. In September, when the UK Wildcats defeated the Florida Gators for the first time in three decades, the store had special t-shirts created with the game score — 27 to 16 — on the front. Exuberant fans grabbed them up. "Students were very excited about finally breaking that curse," said Lang. "We made sure we were part of it and that we celebrated with them."
With more collaboration like this, the UK community will have reason to celebrate for years to come.