February 13, 2015
When Claflin University's administration was looking for new management for its bookstore, three criteria seemed to take precedence: service, service, service.
"The university was interested in the campus store being part of the community," said Barnes & Noble College Regional Manager Jamie Stange, who noted that they wanted a bookstore that could best meet the ever changing needs of students. "Claflin felt that Barnes & Noble College understands that each campus has very different and distinct needs and that we were the best choice to ensure those varying needs were met — or exceeded!"
Oldest HBUC in South Carolina
Located in Orangeburg, South Carolina, Claflin University is affiliated with the United Methodist Church and is the oldest historically black university or college in the state. Celebrating its 145th anniversary this year, the school was the first in South Carolina to offer quality higher education for men and women "regardless of race, complexion, or religious opinion."
For that — and many other reasons — "students and alumni have a lot of pride in their school," explained Store Manager Joshua Griffin. And they show it. According to U.S. News and World Report, Claflin is ranked #1 in alumni giving among Historically Black Universities and Colleges (HBUCs). "There's a real sense of tradition here," he said. "Former students often return to the campus to visit and to see what's new."
Big Change: Student Booksellers
One thing that's new is the Claflin University Bookstore, which is now managed by Barnes & Noble College. "We opened the store on October 27 after a transition week," Stange explained. That week involved plenty of cleaning, new fixturing, reconfiguring layout, and new merchandise. "The flow makes a lot more sense now," she added. "The previous management had a lot of office space, but we don't use a lot of office space, so we use the area for shipping and receiving and housing overstock."
Another big change: student employees. "Students make great employees. They're walking billboards — they know the school, they know what students are looking for, and they know the bookstore," Griffin stated. The bookstore now employs six student employees: one as assistant manager, one as supervisor and four as booksellers.
Students find the experience mutually beneficial. "There are a lot of benefits for student employees," stated Andy Michel, a bookseller and Claflin sophomore. Michel feels comfortable answering a wide range of questions from customers, from both a bookseller and student perspective. "I can answer questions about financial aid or book coupons or guide students to the appropriate people," he said. "If there's a problem with a class and they need to drop or add, I know where to direct them." Depending upon a student's major, he also helps answer specific questions about classes, professors and textbooks.
Supporting Sustainability on Campus
Claflin's sustainability initiative provides the bookstore with an opportunity to support the college community's notable efforts to go green.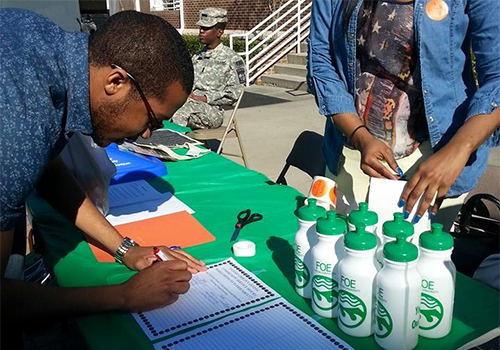 In September, under the theme "Your future is orange, maroon and GREEN," the university unveiled new exterior recycling bins around campus; recycling bins for paper, plastic and aluminum in each residence hall; and plans for a one-stop recycling center behind the Dining Center. Claflin University also has the distinction of being ranked #1 in PepsiCo's 2014 College Recycling Challenge.
"The university is preparing a big recycle weekend on campus as part of its initiative," Griffin said. "The bookstore will be involved with that as well, offering recycled t-shirts for sale through one of our sustainable vendors, as well as other environmentally friendly products."
Ultimately, all of these efforts work to integrate the bookstore into campus life and provide that all-important qualification: service. "It is now without a doubt a better store as a result of the emphasis on customer service and the products we offer," praised Michel.