July 30, 2015
'Career Now' places an emphasis on networking and the value of finding mentors and sponsors for student career success.
The National Center for Education Statistics (NCES) projects that 1,855,000 students will have graduated this summer with a bachelor's degree as the Class of 2015, and while they face an improving economy and greater career opportunities, transitioning from the academic world to the world of work has never been easy. At a time when the skills gap – student preparedness versus the expectations of employers – has never been wider, Barnes & Noble College has been developing its partnerships on campuses to provide greater access to resources for career-minded students.
Potential and Problems
The need to bolster career preparedness was underscored last year by the company's College Student Mindset for Career Preparation & Success research, an initiative which clearly showed students were lacking many of the basic skills required to launch their own career expectations. As a way to both support colleges' recruitment and retention goals, and to provide additional career prep resources for students, Barnes & Noble College launched Career Now, a series of career focused workshops consisting of campus sessions and social media events. "The students couldn't have been more enthusiastic and appreciative — there was such a warm welcome both digitally and on every campus we visited," recalls Joan Kuhl, president and founder of Why Millennials Matter, who moderated the events.
"There was a genuine appreciation from the students that we were coming to them with real-world advice and practical strategies for getting ahead," she adds. But Kuhl also found evidence that directly validated the earlier research. "We found students who, despite easy access to career services and faculty, had never had their resume reviewed and were clearly not taking advantage of those resources."
That might be a costly mistake for a generation of students who show incredible potential in the skills they can offer to the modern economy. "They may be saddled with student debt, and have seen the effect of the economic recession in their parents' lives, but they have this relentlessly positive attitude, an entrepreneurial quality, and we want them to understand the reality and figure out how to use influence to create change," Kuhl says.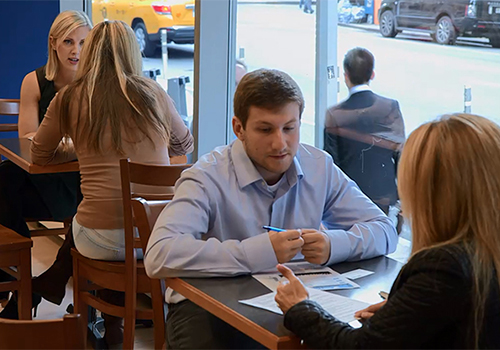 Building that stronger connection between students and campus resources will be the goal of this fall's Career Now program which, in addition to providing practical help with resume reviews and strengthening elevator pitches, will place a stronger emphasis on networking and the value of finding mentors and career sponsors. "The enhanced program is designed to create a stronger link to existing services — to resources such as career fairs and workshops," says Erin Lenihan, Consumer Marketing project manager for Barnes & Noble College, "but it's also focusing on the value of finding mentors to guide students' career prep, and fostering those relationships early in their college lives to guide that effort," she says.
As a vital component for student career success, college faculty will receive a toolkit with ideas on how they can build career prep discussions into their courses, and help maximize their time with students. There will also be outreach initiatives to campus career service centers to build links to the resources and services already available on campus. While components of the program will be hosted as Google Hangouts and through advice columns with Kuhl on The College Juice, a focal point of the program will again be the campus bookstore. "We learned that students trust Barnes & Noble College," Kuhl notes, "and their own bookstore, perhaps, represents a less intimidating place to get information than in the formal classroom format."
Supporting Success
The current generation of students are still presenting some unique challenges to potential employers. A recent U.S. News & World Report study suggests some basic career skills are missing, revealing that 70 percent of Millennials are intimidated by their office phone, a fact that actually makes perfect sense to Kuhl. "When you think about it, young people are on their phone all the time, but they're just not using it verbally."
Kuhl hopes the job-hunting Class of 2015 will have spent their summer mastering some of those basic business skills. "I would hope that they're networking, even in an internship with a local business, putting themselves out there, to meet other professionals and colleagues and investing in their own personal brand, the things they're passionate about and how they can project that into the world," she says.
In the meantime, the Career Now program will be developing the kind of momentum to give students an early start building those skills next term, as Lenihan points out. "We'll be doing what the bookstore is designed to do, to be a support system, and this is a way to support them in their career. It's a way to support their success."