October 31, 2013
Check through any listing of best sellers in the book world and you're likely to find some familiar names: James Patterson, Stephen King, and Nicholas Sparks, alongside obligatory biographies and historical blockbusters. But anyone believing that book selling has become just another commodity enterprise might be surprised by what's happening on campus. Perhaps eclipsed by its dominance in the world of textbook retailing, trade titles are alive and well at Barnes & Noble College bookstores yet, catering to distinct campus communities can often produce more eclectic best-seller lists and top performers that seldom find their way onto The New York Times rankings. After a period of being dominated by franchise series' such as The Hunger Games and the Fifty Shades trilogy, keeping the best and most popular titles on the shelves can be a challenge. And while those epic titles saw both digital and hardcopy sales soar, they also left in their wake a far more diverse and less predictable trade title market.
Hanging Out and Leaning In
Publisher's Weekly reports that in the first six months of 2013, sales in the children's/young adult category fell 22.1%, hurt by comparisons to the juggernaut The Hunger Games. Elsewhere, Random House acknowledged that its e-book sales in the period fell – a telling comparison to the massive digital sales of the Fifty Shades trilogy in the first half of 2012. Those kinds of rollercoaster sales make the job of Barnes & Noble College booksellers all the more challenging, and their skill in predicting trends and identifying solid performers even more remarkable. "This is definitely a different year," admits Nancie Scheirer, who manages the large trade section at the The Harvard COOP bookstore.
Reeling off a seemingly unconnected list of recent best sellers, you begin to appreciate the unique task trade managers face in the campus environment. Comedienne Mindy Kaling's Is Everyone Hanging Out Without Me? has been successfully sharing Scheirer's top-five list with the provocative Lean In: Women, Work, and the Will to Lead, by Facebook COO and Harvard alumna Sheryl Sandberg, while the romance novel Beautiful Ruins by Jess Walter has also featured strongly. "The customers at Harvard are especially difficult to second-guess," Scheirer says. "They tend to go for a mix of contemporary, and what might give them an edge on subjects they want to learn to get ahead," she adds. She also credits social media buzz as having a strong influence on her students' preferences, while older grads and the local community may be more swayed by conventional media such as NPR, The New York Times and The Huffington Post. "But the rest…..well, sometimes you're never quite sure where it comes from," she confesses.
Growing Trends – Quick Response
Lean In also features prominently in Trade Manager Deb Liebow's summer top-seller list at DePaul University's Loop Campus bookstore in Chicago. "Partly because of the business school at DePaul, but also because we're the only store serving the business district," she says. Less predictable has been one of her summer fiction performers; Dan Brown's Inferno. "Those kinds of titles are not always a sure thing – his last outing didn't do so well," she points out.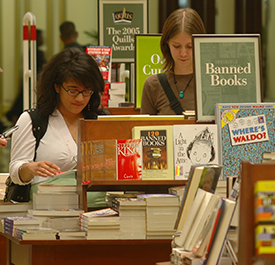 The bookstores are also heavily influenced by events that might be difficult to plan, but translate into unexpected sales. With the Divergent series filming in downtown Chicago, Liebow found a lot of extra customers drawn to the store. "A book set in Chicago, filming right here? It's a no-brainer that it's going to be a best seller," she says. Scheirer was also able to take timely advantage of The Cuckoo's Calling, a J.K. Rowling book published under the pseudonym of Robert Galbraith. "We have a lot of summer camps at Harvard and it happened that a large lacrosse camp was visiting when the news of that title broke: We had a very full store," she recalls. Helping take advantage of those kinds of events can be key in successful retailing as Scheirer explains. "One of the great things about Barnes & Noble College is the system we use, and how quickly we can get replacement stocked," she explains. "Once we can see a trend happening, we can react to it very quickly."
Local Favorites
Local influences can also count a lot on campus. Scheirer point to one of her solid sellers, That Book about Harvard – Surviving the World's Most Famous University, One Embarrassment at a Time, which has a distinctly local appeal, while the massive hit Gone Girl had a less than auspicious start in the author's home environment of Chicago. "Our initial sales were uneventful," Liebow recalls. "But as local author Gillian Flynn came in to autograph books – together with social media and literary press – that quickly changed and it just drove the book," she says.
Neither DePaul nor Harvard is purely a campus bookstore. Both benefit from strong outside sales and large tourist populations. Scheirer acknowledges Tinkers, a Pulitzer-Prize winner and best seller, with a New England narrative, is especially attractive to visitors. "This year, we're already up to 1,700 copies sold – far and away beyond other campus stores," she says. In Chicago, a perennial best seller is The Devil in the White City. "It's always on our local interest table," explains Liebow. "And it gives tourists the flavor of the city at that time. It's a book that people really relate to and love, so it's easy to recommend," she adds.
Exactly the Right Book
If it seems that trade book sellers labor at the whim of a fickle general public, both managers point out they're more than capable of creating their own buzz. "In this business you have to create your own best sellers," Liebow says. An example might be Richard Branson's, Like a Virgin that the DePaul store noticed was receiving take up from the business school. With staff actively recommending and hand-selling the book, it's become a constant performer. Scheirer points to the roughly 300 events a year Harvard hosts, both in-store and on campus, and both stores recognize the effect auspicious merchandising can have on customer purchasing. "There's power in good display and signage," Scheirer points out, "It's all about how well you make people take notice." DePaul's Liebow also points to the human factor. "Yes, it's about keeping the newest and best books in stock, but it's also about great customer service and making good recommendations," she says. "We hire people who read books. We hire people who love books, and I think that really shows," she adds. "It really helps us to put exactly the right book in our customers' hands."