October 14, 2011
Barnes & Noble @ RIT will help score one for charity when it hosts a meet and greet event with the Rochester Institute of Technology (RIT) Men's Hockey team on Friday, October 14, from 7-8:30 p.m. Fans will have the opportunity to rub shoulders with their favorite players and win autographed hockey memorabilia at the fund-raising event, which is free and open to the public.
"We're very proud to bring this exciting event to our campus," said bookstore manager Peter Briggs. "Hockey fans will have a chance to meet their favorite players and all money raised from the auction will benefit a wonderful charity that benefits those in need in the amateur hockey community."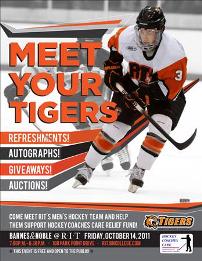 Fans will be thrilled to meet the Division I, three-time defending Atlantic Hockey Association (AHA) regular season champions, enjoy refreshments, and have the opportunity to bid on autographed hockey merchandise. Exciting highlights of the 2010-11 season will be played on a big screen during the event. All proceeds will benefit "Hockey Coaches Care."
"Hockey Coaches Care" is a non-profit organization that has partnered with the American Hockey Coaches Association (AHCA) to help hockey coaches and hockey families in need. Whether it is in response to an illness, accident, natural disaster, or other hardship, "Hockey Coaches Care" lends its support to the amateur hockey community.
The excitement and energy that Barnes & Noble brings to college and university campuses begins with our in-store initiatives. These programs focus on engaging students through campus events, like graduation, orientation, and charitable programs. Last year, we hosted thousands of events across the country. Celebrity author signings, book readings, sampling programs, concerts, cooking demonstrations, and charitable events were just some of the programs that help keep the bookstore a hub of campus life.
We promise unmatched retail excellence and deliver the next-generation of educational content. Is your bookstore a Barnes & Noble College bookstore? Visit bncollege.com to see a listing of our newest college partners.