January 23, 2015
Recently, Barnes & Noble College published The College Student Mindset for Career Preparation and Success, a comprehensive study commissioned to help obtain a deeper understanding of student expectations for life after college, and specifically focused on the career preparedness of this new generation of young Millennials. A crucial part of that research was studied during a recent webcast hosted by University Business, and it revealed some significant findings about how today's generation of students are preparing for the workplace.
Experiences, Skills and Branding
"Students are really following the traditional career roadmap, and this puts them at a serious disadvantage," explained Lisa Malat, Vice President, Marketing & Operations for Barnes & Noble College. "When it comes to their career skills, our research indicated that students tend to concentrate on those they need to land the job or interview, rather than the skills they need to succeed on the job — it's time to rethink the roadmap," she said.
It was a point corroborated by Joan Kuhl, president and founder of Why Millennials Matter, and partner in The College Student Mindset for Career Preparation and Success research. "The key element is that you've got to start earlier," she explained, "right from their freshmen year, students should be meeting with career counselors and advisors, discussing their interests, their options and understanding the resources that are open to them, so they can begin to test drive their interests." Kuhl also recommends that students focus on some specific skill areas to help achieve their career goals.
Investing and developing their own personal brand and refining their communication skills to help students convey confidence is an important first step. They also must prioritize building professional relationships and networking with professors, alumni, and employers in their field of interest as early as freshman year. Experiences are also crucial as a way to start honing career skills earlier, not only through conventional internship opportunities but by seeking added responsibilities such as volunteering in the community. But the topic the University Business webcast concentrated on most was around the options and pathways for students to develop the necessary skills and confidence to help them convey their individual brand.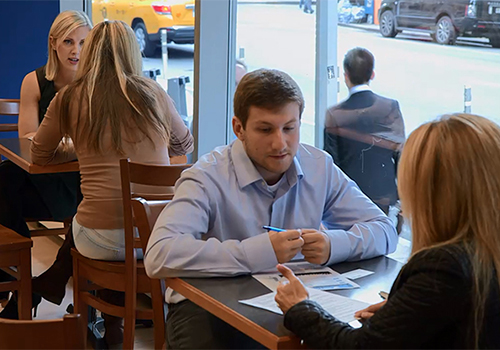 Partnering for Success
Kuhl pointed out that there are opportunities for colleges to partner with other stakeholders to support students' career goals. "This new career roadmap emphasizes an accelerated discovery to experience pathways to increase both student success and the success of the school in terms of post graduate placement," Kuhl said. "Perception of where and how alumni find jobs has a strong influence on the school's recruitment and retention," she remarked, citing experiential development programs that many universities and colleges are adopting in partnership with local and national employers as just one way to help achieve this.
The webcast also clearly shined a light on the 'skills gap,' the prevalent hiring phenomena where employees aren't seeing the kinds of skills they need in Millennial job applicants. "Clear communication and critical thinking were ranked as the two most important skills by the students in the survey, Kuhl explained, "yet, by their own admission, students also recognized that these were areas where they needed to improve."
These concerns are valid; in 2013 the top employee skills desired by employers and recruiters included the ability to verbally communicate, to work in a team structure, and the ability to make decisions and solve problems. The good news is that Millennials appreciate the value of the same skills that employers emphasize, but the challenge is their lack of confidence in demonstrating them. "There's a huge need for colleges to take a more active role in developing or providing platforms for students to build those skill sets, and the opportunity lies in connecting with partners who can sponsor and support this type of training," Kuhl said. One of the relationships that especially matter to Millennials are with their faculty.
In research, Malat explained that faculty are the number two influencer on student career choice. "Students really look to faculty as a resource, with the wealth of knowledge to help mentor and guide them through their decision-making process ─ and faculty absolutely want to be more engaged with their students in that process," she added.
Resources for More Effective Career Outcomes
The momentum started with The College Student Mindset for Career Preparation and Success has continued with Kuhl participating in career focus workshops at campus bookstores nationwide as part of the Career Now campaign.
In partnership with their career service centers, she wants to encourage students to take advantage of the resources on their campus, and will be supporting those objectives with regular Twitterview events, blogs and a new podcast series. "The bookstore is a trusted hub on campus, a source for inspiration and a great backdrop for connecting with mentors and resources to help students prepare and launch their careers." Kuhl said.
Barnes & Noble College also promised more involvement with helping to define and encourage more effective career outcomes. "Career prep is a number one driver for enrollment in colleges and universities, and alumni giving is most influenced by how the school helped them launch their careers," Malat noted, "so we really believe this is the time for everyone ─ students, colleges universities, advisors, employers and parents ─ to rethink the career roadmap."