June 11, 2014
From Ivy League prep, to post-modern grunge, students have always been at the forefront of fashion. Often balancing tight budgets against the aspirations of trend-conscious youth, students are renowned for being the first to adopt new styles or adapt existing ones. That's particularly true of the revolution happening to what used to be thought of as sports or active-wear. With cutting-edge, high-tech fabrics offering better quality and sleeker, minimalist styles, a new generation of performance wear has left the stadium, headed for mainstream and, in the process, has redefined the way we think about casual wear.
Performance is the New Black
With an overall global market value expected to reach $126.30 billion next year, sales of performance wear are exploding. "Any retail space you look at, it's a category that's really expanding," reports Lisa Loughan, Buyer for Barnes & Noble College, which manages over 700 campus stores nationwide. That trend couldn't be more evident than in the campus stores she buys for, and where she's predicting no slowdown of the phenomenal 32 percent growth the category experienced last year. "We've carried brands like Under Armour in our stores for many years, but now we're developing the category by providing our students with access to the same brands, same fabrics and same silhouettes found in major retailers, giving it even greater relevance by making it available with their school logo," she adds.
Now joined by fitness giants like Nike and Champion, sustaining that kind of growth is requiring some changes at the store level. "We're transitioning the selling floors in our bookstores to streamline some of our bestselling cotton graphics and offering more product in the performance category," Loughan explains. And while cotton sports apparel still accounts for substantial sales for Barnes & Noble College — particularly appealing to alumni and parents — it's a product being eclipsed by the shift away from the traditional collegiate look to more modern and versatile fabrics.
Among the hot items students are buying are light-weight tees for men, and shorts, tees and tank tops for women. Loughan notes that consumers are flocking to performance fabrics because of the greater comfort, adaptability and style they can provide. Without putting too much thought into an outfit, new high-tech fabrics can be layered easily to provide greater freedom of movement, breathability and moisture management and can easily adapt to the chilly campus or heated lecture hall. "I like wearing athletic performance wear because it's so comfortable" says Marisa Langley, a junior studying Management Information Systems at Penn State University in State College, Pennsylvania. "As a college student, I often find myself high on stress and low on sleep. Fitness apparel is an easy way to fit some extra comfort into my life — and I like that it's so versatile."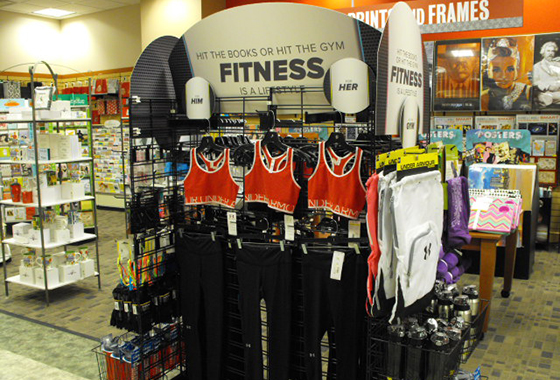 Not surprisingly, women's is the area expanding the most in the coming year, and Loughan acknowledges the strong fashion element retailers such as Lululemon and Athleta are signifying. "It's really making a woman change what her daily outfit looks like, no matter her age or activity level — whether going to class or meeting friends — she's resorting to that fitness lifestyle coordinating product," she adds. While comfort is a big factor, Loughan also points out that performance wear can also represent a powerful brand statement. "Students are very brand aware," she notes, "so brands like Under Armor or Nike have a particularly strong resonance with our age group."
Fit or Fashion?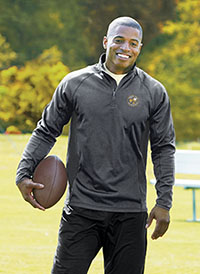 It's not always easy to separate the growing movement for increased fitness from the phenomena of performance wear solely as a fashion trend. Although the design elements behind performance wear are intended to cater to activities ranging from yoga to athletics, the consumer is increasingly using that product for more stylish reasons. Surveys repeatedly point to a consumer preference for performance wear as around-the-house clothing, equally well-suited for doing chores, attending classes or meeting friends for intense workouts. But it's a trend that has endless possibilities.
An active population presents attractive opportunities for apparel makers. Conventional sporting goods stores now compete with fashion retailers, and in a statement away from the traditional black uniform, performance is coming into its own with pattern leggings and bright neon palettes in a bid to capture more of this lucrative market. Whether as a sport or fashion statement, Loughan is acknowledging the lineage of performance wear with a fitness program to debut in time for this year's back-to-school season. "I'm really into the bright neon workout gear now," says Penn State's Langley. "It really lifts my mood — and with my long treks across campus in unpredictable weather, sportswear is the best way to go for me. But best of all, I can buy it from the bookstore with the Penn State logo, so I can show my school pride wherever I go!"