February 13, 2017
On today's university and college campuses, non-traditional students are fast becoming the new normal, a changing student demographic that is increasingly redefining the face of college students. In its previous study, Achieving Success for Non-Traditional Students, Barnes & Noble College researched the foundation of the non-traditional student journey and defined non-traditional students as fitting a variety of criteria, among them: being 25 years and older, first-generation to attend college, veteran, distance or online learning student or one with a family or dependents ─ all characteristics that are well-represented on campus today. Yet this important and impactful trend comes with a challenge: a group of non-traditional students may potentially be at risk of dropping out of school — and more so than traditional students.
Understanding Experiences and Perspectives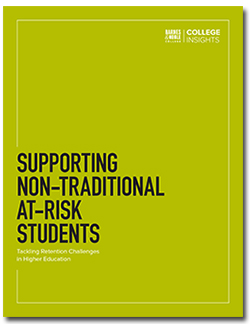 "Our research indicated that students who may be at risk reported a low sense of connection to their school or low confidence that they could complete their program — and had negative feelings about their current situation at school," explains Marie Policastro, Director of Partnership Marketing for Barnes & Noble College. By definition, these criteria applied to almost a third of non-traditional students, prompting the Supporting Non-Traditional At-Risk Students report,  a deeper dive into understanding the experiences and perspectives of this group. "We found that at-risk students spend less time on campus, which also means they have less opportunity to build their social lives," Policastro says. "Less than 10 percent of these students feel that they belong, are socially connected or have friends at their school."
There's also a significant academic downside revealed in the research findings. Only 27 percent feel supported by their school and less than half reported that their professors are available to help when needed. "We're learning that emotional well-being is a challenge for these students," says Policastro. "They told us that they felt overwhelmed, with over two-thirds reporting that they're stressed," she adds. Those feelings of not just academic, but social and emotional disengagement, can present a challenge for colleges and universities, and reflect a growing student segment who are juggling school, jobs and home life — with little or no support.
Engagement and Connection
Non-traditional student enrollment is projected to increase more than twice as fast as traditional student enrollment from 2012 to 2022, and as the number of non-traditional students increases, so will the number of at-risk students, creating a growing retention challenge for schools. "But there's also a real opportunity for schools to engage at-risk students, actively helping them build connections and the right resources," points out Lisa Malat, Vice President and Chief Marketing Officer for Barnes & Noble College. "It's important not only for retention efforts, but for the success of all students."
Despite the many challenges that might uniquely frustrate the success of non-traditional students, the research also found that this is a segment of the student body with some impressive resilience. "Getting a degree is not easy today — there are a lot of financial, academic and social complications that can arise," says Malat. "But you'll find a lot of non-traditional students out there who are fiercely determined and focused on the future. As one of our non-traditional juniors said, 'Education is the one thing people can't take away from me. If I have that, my possibilities are endless.'"