May 05, 2016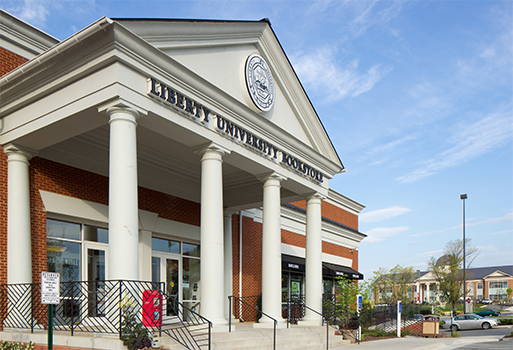 Among the many other qualities required to be a successful Barnes & Noble College store manager, the ability to cultivate a deep understanding of the needs of one's campus partners is something Kathy Scarborough has in spades. When FacultyEnlight launched two years ago, Scarborough's campus partner, Liberty University, initially passed on implementing the Barnes & Noble College online platform as a way of supporting their textbook adoption process. Although appreciative of the platform's many features, Liberty developed their own textbook adoption system as a way of answering what they saw to be the individual reporting needs of the university. However, Scarborough was determined to bring the many advantages of FacultyEnlight to Liberty University and last year, she tried again, but with a different result.
Many Customers, One Goal
"In the academic environment, there are always many stakeholders in the decision to adopt a product like FacultyEnlight," explains Barnes & Noble College's Director of Digital Education, Nicole Guerrieri. "Very often, faculty might see the advantages immediately, but what is equally important to consider is the school's IT department, who might have very specific requirements that we may also need to address," she says.
Although faculty members at Liberty University were happy with their adoption system, they still hoped for some additional functionality. "Our system was actually working pretty well," recalls Dr. Emily Heady, Liberty's Vice Provost for Undergraduate Education, "but I was hearing from a lot of our faculty that although it was functional, it could also be hard to use. If you already had your ISBN and knew what you were looking for, then easy, no problem, but it wasn't always helpful if you were looking for something new," she adds. In partnership with the Barnes & Noble College tech team, Liberty University's IT department laid out their need for an API capability for FacultyEnlight, and in particular, the ability to run and print any needed reports from the system.
In the meantime, Scarborough was facing some problems of her own with the proprietary textbook adoption system. "Faculty were sending us their adoptions for approval, but the difficulty was there was no authentication of the information they sent," she explains. Given the often very specific requirements for the Liberty faculty, particularly for specialized course packs and customized titles the university uses in its curricula, this extra step required more checking and more time devoted to verify that the correct titles could be obtained and ordered.
With the customized API enhancements for FacultyEnlight underway, Scarborough attended the Bookstore Innovation Group (BIG) sessions, comprised of bookstore staff and Liberty University administrators and faculty, and presented to individual faculty members whenever there was an opportunity to show them the benefits of FacultyEnlight. This past fall, faculty began submitting adoptions for the Spring 2016 semester using the platform. "For the first time, they could test the API capability, and see all the analytics and reporting populated with real-time data," Scarborough remarks.
The switch to FacultyEnlight also met with Dr. Heady's approval. "I've been getting a lot of positive feedback about the system, particularly the visual interface," she says. "A lot of times you'll know exactly what your book looks like, but you might not remember the exact edition, so that's helpful and speeds things up a lot for our faculty." Heady also said her colleagues like the close relationship they have with Textbook Manager Anthony Vorce, who provides additional one-on-one support for textbook adoptions.
The Value of Time
In its first trial semester, adoptions at Liberty have gone from .25 percent to over 55 percent using FacultyEnlight. "I'm hearing that our faculty are loving it," Scarborough reports, "They're finding it more user-friendly, they're able to match the order against their stored historical information, and they're getting notifications of new editions — it's all helped enormously with accuracy and choice," she says.
While textbooks are obviously an integral part of the academic process, Dr. Heady explains that if FacultyEnlight can take the burden out of textbook ordering, that might be its greatest value. "Yes, we want to ensure we're providing our students with the right book, at the right price, but then we want it to be done," she says. "The fact that we've experienced so little drama with the switch to FacultyEnlight is definitely a good sign." It's a point Scarborough particularly appreciates. "Faculty's time is so incredibly valuable," she says. "To have to go back to them if they ordered an out-of-print book is an extra hurdle for them. Now they have better information, at the time they're entering it, so their students can get the correct book order to prepare for the first day of classes. It's all about the value of time."