March 31, 2015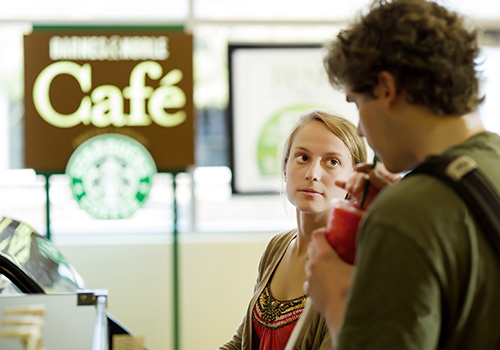 The bookstore café at Furman University offers a stunning view overlooking the lush parkland and spring-fed lake on the beautiful South Carolina campus. But it has its competition from neighboring food services outlets on campus, all of which makes the success of this particular Barnes & Noble College bookstore café that much more remarkable.
From Grab-&-Go to Stay and Linger
Together with her team, Crystal Jarrouge, who manages the Furman University Bookstore, was determined to build the café and convenience part of their business, and in the process, create a stronger identity for the store. "We wanted our store to be more than just a place to get your books," she explains, "and felt that the café was an essential part of achieving that goal."
Jarrouge embarked on numerous outreach initiatives — building relationships with incoming freshmen and speaking at Accepted Student panel meetings — and found that she was talking as much about the Starbucks coffee served in her café as she was about the textbooks on her shelves. That led to the President of the Freshmen Student Government to request holding a meeting at the bookstore, which established a different attitude toward the café. "I think events like that first meeting really set the mood and changed the view that the store was not just a place to grab a coffee and leave, but a real social hub for the campus," she explains.
Jarrouge also changed out the décor, moving hi-tops to overlook the lake, and bringing couches into the café area to create a more inviting and warming atmosphere. A white board now announces special offers such as a two-for-$5 coffee and a bagel, or a granola bar-and-soda combos, and introduces new items like Oreo Stacks Snacks. "We also switched out our bake case," she points out, "it had looked cluttered and now we're presenting our food items in a much more appetizing way."
Jarrouge also credits Christine Hart, her café manager, for really knowing the product offerings and understanding the needs of her customers. "It's important that we know our customers," Hart says. "We always want to ensure that we can offer exactly what they want, which ultimately keeps loyal customers coming back. We want them to feel that this is their bookstore and café."
It's a strategy that has reaped rewards for the Furman University Bookstore team, with the grab-and-go students now lingering and faculty members hosting office hours in the store. As a result, convenience sales in the store are up nearly 20 percent, and 54 percent in the café.
Where the Customer is Key
At Furman, Jarrouge puts her customers front and center with everything from loyalty programs to menu changes, "Our customers are key and we're always looking to offer them something different," she says. "We're always sampling new offerings and looking for feedback on what our customers like and don't like," she adds.
Although the ingredients for success seem many and varied in the café and convenience business, perhaps Jarrouge puts it best when she says, "I think if you really want to provide your customers with an incredible store and café, it's not about one product — it's the whole experience."