May 24, 2013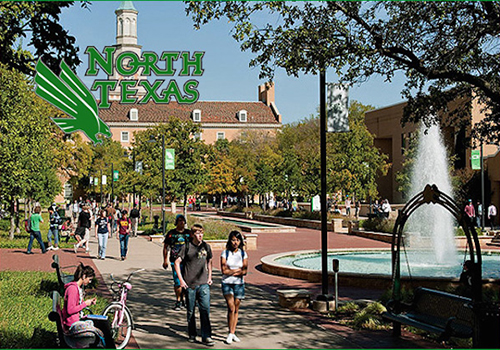 Barnes & Noble College will begin operating the University of North Texas bookstore, commencing July 1, as part of a new 12-year contract with the University. An interim bookstore will serve students and faculty until construction is complete on the new UNT Union building, which will eventually house the new 28,500 square-foot bookstore.
"We're proud to have formed this new partnership with the University of North Texas," said Max J. Roberts, President & CEO, Barnes & Noble College. "The new bookstore will fully support UNT's mission for 'preparing students for the challenges they will meet in our changing world.' Together, we will help to ensure each student reaches his or her fullest potential."
More Than a Bookstore
University of North Texas (UNT) students will enjoy a campus bookstore that reflects the UNT brand, including a wide selection of school spirit apparel, award-winning NOOK® devices and other technology gadgets, as well as gifts for alumni, friends and family. Course materials will be offered in variety of formats, including rental, digital, used and new, ensuring students have access to the options that best suit their needs. Faculty will also have access to a groundbreaking online community, FacultyEnlight™, a streamlined textbook adoption platform that combines advanced search capabilities with detailed information on course material formats, pricing and reviews by other faculty.
The stadium store will offer North Texas emblematic apparel, spirit paraphernalia and other 'Mean Green' items at the recently-completed Apogee Stadium football facility, designed and built by the same people responsible for the Dallas Cowboys Stadium.
Student and Faculty Outreach
The new Barnes & Noble College campus bookstore team will work closely with the University of North Texas to establish a strong social media presence on Facebook that reflects local events and promotions. In addition, the new bookstore team will reach out to both faculty and student organizations to ensure these groups are able to leverage the full resources the new bookstore team has to offer.
The Barnes & Noble College transition team will begin work shortly on a seamless transition to ensure an optimal in-store and online shopping experience for the overall UNT community.
"Our hope is that we maintain the level of service that we expect in the bookstore, and we also think the Barnes & Noble name will be a draw for our students — an appeal to our students — and the community as well," said University of North Texas Vice President of Student Affairs Elizabeth With.
A Green Light to Greatness™
The University of North Texas is one of the nation's largest public universities and the most comprehensive in the Dallas-Fort Worth area, dedicated to providing an excellent educational experience to 36,000 students. UNT is a student-focused public research university with 12 colleges and schools offering 97 bachelor, 81 masters and 35 doctoral degree programs, many nationally and internationally recognized. The university has been named one of America's 100 Best College Buys® for 17 consecutive years and is listed as a "Best in the West" college by The Princeton Review.