February 22, 2013
Opening Day may be months away, but Vanderbilt University baseball fans recently got a jump on the season by attending a preseason baseball team signing event at the Barnes and Noble at Vanderbilt bookstore.
Five members of the Vanderbilt men's baseball team made an appearance to sign copies of the team's new 2013 season poster and pose for photos with fans. The five players, who are the centerpiece of this year's poster, included Tyler Beede, Tony Kemp, Connor Harrell, T.J. Pecoraro and Mike Yastrzemski (grandson of Red Sox Legend Carl Yastrzemski). Also in attendance were the Vanderbilt Cheerleading Squad and school mascot, Mr. Commodore.
Fans were greeted to the strains of baseball classics "Take Me Out to the Ballgame" and "Centerfield" as they waited to have their photos taken with Mr. Commodore and meet the team. The store also distributed plush, mini-baseballs and bounce-back coupons, valid during the opening week of baseball season, to encourage fans to return to the store.
Developing Partnerships on Campus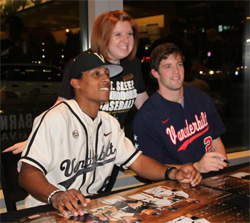 The event, a joint effort between the bookstore and Vanderbilt Athletic Department, promoted both the men's baseball and basketball teams. The bookstore event helped drive excitement and attendance at Memorial Gym where fans later watched the Vanderbilt basketball team defeat the Auburn Tigers 73-61.
The bookstore lends itself perfectly to sporting events because of its location next to Memorial Gym. In fact, last summer, the bookstore unveiled the redesigned Vanderbilt football uniforms. Hundreds of fans crowded the store to see the players and watch the team model the Commodore's new uniforms.
Getting the Word Out
A coordinated effort between Vanderbilt Athletics and Barnes & Noble at Vanderbilt helped promote the signing through many channels, including Facebook and Twitter, the bookstore's website, posts on the school's events calendars, and through the student ambassador program. "The Barnes and Noble at Vanderbilt staff did a great job of putting together the autograph signing for our baseball team in-store," said Steve Walsh, Vanderbilt Athletics Sales and Marketing Director. "Our fans enjoyed getting the chance to see our top players before the start of the season. The staff continues to look for new ways to activate our partnership and bring Vanderbilt Athletics to the forefront."
Excitement for baseball is at an all-time high among Commodore fans since their team's 2010 trip to Omaha, Nebraska for their first appearance in the College World Series. Heading into the 2013 season, several sports publications have the Commodores ranked as high as third in the nation. Vanderbilt fans are excited for another winning season and more exciting athletic events at the Barnes & Noble at Vanderbilt bookstore.