August 05, 2013
Joel Friedman knows his way around colleges. As Vice President of General Merchandise, Store Design and Construction for Barnes & Noble College, he's visited hundreds of campuses in his 15 years with the company. As head of merchandising, he is responsible for all apparel, gifts and food sold in over 700 campus stores nationwide. But it was in a different capacity that Friedman recently visited the campus of Baruch College's Zicklin School of Business.
Back to School
On a Wednesday evening in June, MBA students at the New York City school got a crash course in business ethics and fair labor practices when Friedman appeared as a guest speaker in their Sustainability in Supply Chains and Operations class.
"I like to include guest speakers in my classes – to give students real-life examples of the business process," said Dr. Dorothée Baumann-Pauly, adjunct professor at Baruch College. "These are MBA students, many of whom have full-time careers, several in the retail industry, so they really appreciate the opportunity to hear from an experienced professional – someone who is actually dealing with the very issues we study in class and they face at work."
As a former Project Officer for the Fair Labor Association (FLA), a collaborative effort of universities, civil society organizations, and socially responsible companies, Baumann-Pauly reached out to the non-profit organization for a speaker on ethical business practices. The FLA, whose mission is to promote adherence to international and national labor laws, recommended the Barnes & Noble College executive for her class.
As an early advocate of fair labor and sustainability, Friedman was responsible for requiring all vendors who do business with Barnes & Noble College to sign the FLA Code of Conduct. The Code promotes ethical practices by prohibiting the use of sweatshops and child labor, and requiring strict adherence to workers' rights.
Corporate Challenge – Finding Solutions
One of the most persistent and challenging corporate responsibility questions is how to ethically buy products from contract factories in less developed countries while ensuring fair wages and maintaining acceptable working conditions for workers. When asked by a student how Barnes & Noble College faced this challenge, Friedman answered, "We chose to become involved with the FLA because we felt they could heavily monitor the factories that we use in the production of our apparel. We know that the colleges and universities we serve do not want products in their bookstores that were manufactured by exploited workers – and neither does Barnes & Noble College," he added.
Personally passionate about this cause, Friedman was instrumental in establishing programs and products that support this mission, including requiring the Code of Conduct, using sustainable and green products in the building and renovation of stores, and investing in companies that pay their workers a living wage, like Alta Gracia.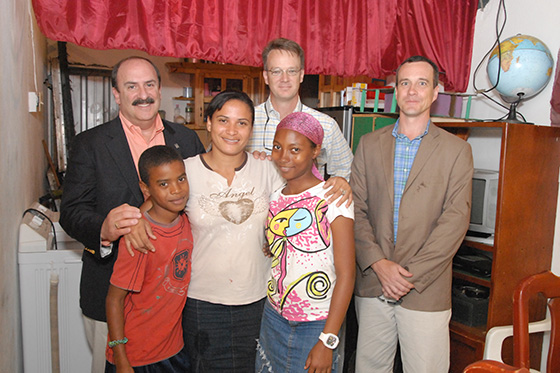 "Our guest speakers are always valued," said Baumann-Pauly. "But the students were really impressed with Joel's knowledge and passion. Many of them face an uphill battle trying to convince the companies they work for that this is beneficial for everyone. Joel gave them real-life examples how this works – something they can take back to their employers and convince their peers that this is good for business."
Ethical Practices Means Good Business
Increasingly, companies must find new ways to address the social, economic, and environmental effects of doing business while balancing conflicting demands on their resources. But a recent study by professors at MIT and Harvard showed that some consumers — even those who were focused on low prices — were not only willing to pay more, but actually did pay more, for clothes that displayed signs about fair-labor practices.
"Last year, the single, largest selling item in our stores was the Alta Gracia rolled t-shirt. We were willing to pay a little more for it than other marketplace rolled tee options, so that we could tell an important story about giving back," explained Friedman. "This is a great example of how companies can offer quality products at fair prices and help change the lives of 133 factory workers in the Dominican Republic. To see the positive effect this program has had on workers lives is incredible. Doing business ethically pays off," he added.
Friedman is an ardent believer in fair labor's benefits. "It's my heart's belief that if we do good – we can also make money," Friedman explained. "Ensuring that the products sold in our stores are manufactured ethically, using fair labor practices, is not only good for business, it is the right thing to do."