April 07, 2015
Becoming bookstore manager at Midlands Technical College was a long-awaited homecoming for Mamie Jones. When the Columbia, South Carolina, school transitioned its Airport Campus bookstore to Barnes & Noble College management in December, Jones — a Midlands alumna — was a natural choice to take the helm.
Homecoming
"I've worked with Barnes & Noble College since 2001, serving as assistant store manager at the University of South Carolina for 14 years," Jones says. "Coming back to my alma mater has been great. My regional supervisor knew that I had long wanted the opportunity to work here. And now it's happened!"
And she's determined to have her homecoming happen in a big way. Jones gets to the store at 7 a.m. each morning because, as she says, "I want my store as close to perfect as possible when I open the door to customers," she says. And so far, she's received a very positive response from faculty and students alike. "They're amazed at the difference. It's clean and bright, and the improved layout makes it easy to find things," Jones says proudly. "They comment about the customer service. One of our assistant VPs said that we 'frisk people with kindness.'"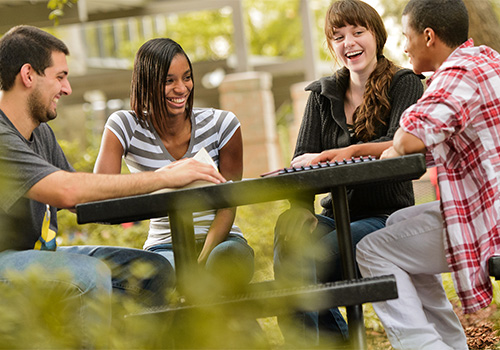 In auspicious timing, Midlands changed its logo right around the time Barnes & Noble College stepped in. "We brought in all new merchandise, from apparel and cups to key chains, lanyards and binders. It worked out really well," Jones recalled. The bookstore also enhanced its convenience section, with cold sandwiches added to the snacks and drinks. "The students really like that because the only place nearby is a Subway, and now they have other options."
A Customer-Centered Experience
First-class customer service is also a big priority at the bookstore, and it's part and parcel of the staff's training. "When customers come to the register, we chat with them," says Brittnee Knight, a student bookseller currently in her first year at Midlands studying criminal justice. "We work really hard to create an environment that our customers want to return to."
And the customers have taken notice. Knight recalls one student who was having difficulty getting her financial aid transferred. The bookseller helped by checking her financial aid status, finding the books and materials she needed, and confirming the course requirements and the price. "The student told the manager that she was impressed by our customer service," she recalled. "That was really important to me."
Known for its wide array of healthcare studies programs, Midlands offers areas of specialization that includes nursing, dental hygiene, phlebotomy, pharmacy technician, medical record coder, and respiratory care, among others, making for very distinct course requirements — and bookstore offerings.
"We're one of the few colleges that still use the nursing caps," Jones reports. Her bookstore shelves are filled with scrubs, dental kits with instruments, stethoscopes, blood pressure cuffs, uniforms and shoes. Students seek (and find) special watches to take pulses and breakaway lanyards for IDs. "In some of our programs, students work around machines," Jones explains. "The lanyard will break open if necessary so they so you don't get caught up in the equipment."
Refreshed Merchandise and New Programs
The breadth of curricular requirements means specific training for student employees. "I was training during the transition and it was a lot of fun," student bookseller Knight says. "We met a lot of new people and packed up nearly all of the old merchandise and brought in new products. We did a lot of cleaning up, throwing out boxes and getting rid of outdated products."
Now, the bookstore team has been busy introducing its offerings to the campus. A first-ever Grad Fair created a one-stop shop for spring graduates, showcasing gowns, rings, invitations and diploma frames. A FacultyEnlight training class introduced administrators to Barnes & Noble College's innovative online platform, which allows faculty to research and adopt materials in one convenient place. "We had a slideshow presentation, and everyone left with a flash drive full of helpful information," Jones says. "They've never had these types of resources here before."
Building bridges, according to Jones, is what it's all about. Midlands' motto is, "You can get anywhere from here," says the manager and alum. "And here I am, right where I want to be."